AUGUST YOUTH FUNDAMENTALS
The FDKM Youth Fundamentals Course is taking a short summer break, but we'll back in August! The Youth Fundamentals Course introduces students to important self-defense concepts, techniques and tactics. Completion of this 4-week (8-session) course is the first step to joining the full Youth Krav Maga program at FDKM.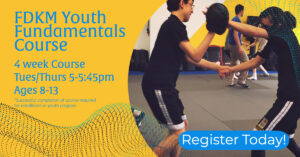 The next Course begins on Tuesday, August 8.
August 8 - 31
Tuesdays & Thursdays 5:00-5:45pm
For ages 8-13
REGISTER FOR THE AUGUST FDKM YOUTH FUNDAMENTALS COURSE

NEW CLASS FOR KIDS
This August, we're also brining back a class for our youngest Kravists. This 8-week (8-session) course will have weekly classes specifically designed for kids ages 5-7. In these sessions, the kids will work on their physical skills (balance, agility, speed, strength) as well as learn about self-defense concepts and develop critical decision-making skills.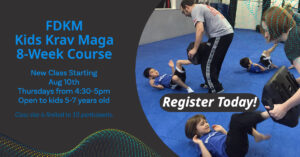 The next Kids Krav Maga Course will begin on Thursday, August 10.
August 10 - September 28
Thursdays 4:30-5:00pm
For ages 5-7
REGISTER FOR THE AUGUST FDKM KIDS KRAV MAGA COURSE
*If you have any questions or trouble registering for either course, please reach out to use at 703-835-9054.*